Suresh Desi Cow Ghee is handmade from Desi Cow Milk of premium quality. It adds flavour to your daily foods and also keeps you fit and healthy. We prepare Suresh Desi Cow  Ghee by Vedic Process, with the help wooden churners and wooden pots to obtain Desi Ghee from Cow Milkfat. The quality and taste of desi ghee depends on the source of the milk used in the process. We obtain Milk from Grass-fed Cow's which is the best source among all. Suresh Desi Ghee is full of Vitamins A, D, E, and K. We (Suresh Desi Ghee) are known for its superb quality, smell, taste and, high nutritional value and essential health benefits. Our desi cow ghee is 100% toxin free.
So don't wait and hurry up, if you are looking and trying to buy Online Pure Desi Cow Ghee. For online desi cow ghee price – 1 Kg Order Now at www.SureshDesiGhee.com. At our website you can explore all the details of pure desi ghee price and get an idea of our premium quality product.  Nowadays desi favourite has made a comeback on dinner/lunch plates of gourmands and health nuts alike. "Every home needs a jar of Suresh Ghee – Desi Cow Ghee" due to its health benefits.
Why the desi cow ghee is costlier than normal ghee?
Pure Desi Cow Ghee is the perfect blend of nutrients for your health and mental peace. The nutritional value of the desi cow ghee made specifically from cow milk exceeds the benefits of any other ghee. Desi Cow Ghee is completely organic, machine and chemical free. You can order pure desi cow ghee online at https://sureshdesighee.com.
The ghee available in the market which costs around 600/lt – 700/lt is actually not from Curd Route in the first place and secondly the milk used in its preparation is a mixture of buffalo, goat and other HF & Foreign Breed Cows or any other animals. Thirdly the animals are Mostly not fed on organic green feed and are in maximum cases given Hormone Injections to increase milk production.
There are many brands in the market which are providing pure ghee online. One of the best pure ghee brand is Suresh Desi Ghee, which they are manufacturing in the most organic way. No doubt the pure word makes it pretty costly but it's no way precious than your health. This ghee if manufactured from the milk procured from grass-fed desi cows. Fresh, raw, unprocessed milk is boiled and converted into curd, curd is then churned with wooden hand churner and makhan/butter obtained in the process is then separated, the separated butter is then boiled in a thick vessel on mild fire and finally what we get is the finest ghee which has numerous ayurvedic and medicinal properties. If you want to buy cow ghee online direct from farms of village farmers. Please visit our website www.SureshDesiGhee.com to purchase Desi Pure Cow Ghee online- 1 kg ghee price is Rs . 2400. Desi cow ghee is costly than the ghee prepared with Commercial method where companies use machines and chemicals to prepare desi ghee. In Vedic ghee making process, we make ghee by the ayurvedic wooden churned method and as we have mentioned above 30 KG of Curd is used to make just 1 KG of ghee plus manual labour. Which make pure ghee price little costly than the other ghee available in the market. You should only buy pure, authentic and verified desi ghee. That is more important than the brand. Suresh Desi Ghee backs all its products and processes with unconditional & upfront guarantee. Making it among the most confident concepts.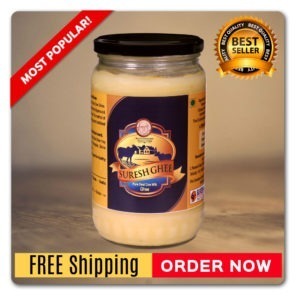 What Makes 'Suresh Ghee – Desi Cow Ghee' as The Best Desi Cow Ghee In The World?
Pure Desi Cow Milk is boiled in Earthen vessels (Pots).
Boiled Desi Cow Milk is overnight converted to Yogurt in Pots.
Yogurt is churned using Wooden Churners in the morning, mostly before Sunrise.
Butter (Makkhan – मक्खन)  obtained is warmed to obtain this Pure Desi Ghee.
We prepare Ghee out of only 70% milk of the Cow, remaining 30% is left for Calf feeding – means Milk From Happy Cows.
We extract only Premium Butter from Yogurt. (it means only the Best part of the butter from Yogurt, which is approx 85% of the available butter from Yogurt)
We make Premium Quality Handmade Fresh Pure Desi Cow Ghee.
The Special Feature of 'Suresh Desi Cow Ghee' is, you get Pure Ghee 'Direct from Village Farm'.
We are Special and Different From Others:
This is not our main business, rather a MISSION.
We believe and execute the very holy thought of 'Gau Seva' .
We are not a Dairy Factory, but a 'Farm', and more than that a 'Gau Mandir' .
We don't manage cow, We do 'Gau Seva' .
We deploy two 'Gau Savaks' for every 5 cows.
We believe in and practice 'Happy Cow' traditions.
Our cows' are not tied 80% of the time.
We play Indian Traditional Classical Bhajan Flute Instrumental Music, for our cows.
We always milk a cow after it's calf is fed. We generally milk only 60-70%, rest is fed to calves.
Before and after milking the cow, we make calves do milk feeding, so as to keep Mother Cow and Calf Happy, Healthy and Fit.
We only keep Indian Desi Cow in our Farm-Gau Mandir.
We feed our cows with devotion. We offer 'Bhog' (food with prayer) to our cows. Therefore, we call consider it as #Kaushalya Green Mani, #Yashoda Save Mani & #Jaipati Sweet Mani.
We practice 'Dharma' (Gau Puja & Seva) not 'Karma' (Business).
 
For desi ghee online shopping login to https://sureshdesighee.com/ and order now. You will definitely like our premium quality desi cow ghee, so hurry up and consume our pure desi ghee to stay healthy and active.
Desi Cow Ghee can be composed primarily of fats, but it also contains significant levels of vitamin A, vitamin E, vitamin D and vitamin K. Many individuals think about fat as an unhealthy and unfit element to the diet but the body needs fat to function and stay fit. Omega-3s (monounsaturated fats) are one of the healthy forms of fat found in ghee in addition to other fatty acids such as butyric acid and conjugated linoleic acid, both of which have positive health benefits in our body. Buy pure cow ghee online at https://SureshDesiGhee.com/.
Impressive Ghee (Clarified Butter) Benefits
Hearth Health
The rich variety of fats in desi cow ghee can provide a healthy boost to the heart. To reduce your unhealthy cholesterol levels Omega-3 fatty acids can be helpful and can provide an energetic & healthy balance to your fat intake. Many people associate butter with fat and a decline in heart health but desi cow ghee is good. Also, moderate use of pure desi cow ghee can lower cholesterol.
The variety of fats composing pure ghee includes medium-chain fatty acids. This is very useful for human's body. Liver process them (fats) and burn it as energy not passing into the adipose tissue or contributing to gain in weight. Sports person and other active people with high-energy lifestyles, desi cow ghee can provide the necessary burst of energy that you require to get through a challenging day on daily basis.
Reduces Allergy
As desi cow ghee is dairy-free (all the dairy residue simmered off), those who cannot consume butter or lactose intolerant individuals are free to enjoy the flavorful treat of "clarified butter" in the form of desi ghee without worrying about the gastrointestinal problems that normally follow.
Eliminates Free Radicals
The health benefits of vitamin A are widely broadcasted and the power of carotenoids in terms of eliminating free radicals in the body are extremely valuable. When you add the antioxidant capacity of butyric acid and CLA (conjugated linoleic acid) and  to the power of vitamin A contained in desi cow ghee, you have a powerful anti-cancer substance and this could help to reduce oxidative stress throughout the human body.
Boosts Immune System
One of the most important element in desi cow ghee Butyric acid has also been linked to the stimulation of T-cell production. This is the heavy-hitting cells of the immune system in our body. Therefore, pure desi ghee can supercharge your immune system as one of its health benefits.
Caution: All of the benefits mentioned here make desi cow ghee sound like an ideal substitute for butter. However, as stated pure ghee is made of fat so excess consumption of ghee can change your fat intake and can act as a negative dietary choice. So, be careful about your intake of the pure ghee you choose to consume. Also, discuss with your medical professional to ensure that your fitness level can handle a shift to a higher fat diet.
Reduces Inflammation
One of the most beneficial short-chain fatty acids that the body needs is found in ghee that is butyric acid. In recent research Butyric acid has been shown, to actually decrease inflammation in parts of the body, particularly in the gastrointestinal tract. Therefore, now it is recommended dietary addition for some people with ulcerative colitis. Additionally, desi cow ghee enemas have been used in traditional medicine for the treatment of inflammation of various kinds.
Eye Care
The significant levels of vitamin A in pure desi cow ghee make it ideal for protecting eye health. Netra Tarpan is a process of Ghee Eye Bath in an ayurvedic ritual where the eyes are bathed in warm and clarified butter called pure desi ghee. Antioxidants like Carotenoids helps in neutralizing and eliminating the free radicals. This prevents macular degeneration and in the development of cataracts.
Why desi ghee is the intelligent choice
Desi Cow Ghee contains natural healthy fat, much needed by the body, help in memory and motor skills, needed to prevent brain disorders, maintain hormonal balance and repair and regenerate damaged cell membranes. Pure Ghee is also called, "nectar for the brain." It fuels all the neurological functions that create our conscious and subconscious movements and decisions, the immune system that protects us from Alzheimer's and dementia as well as cells growth and repair.
There is always a debate as to why Ghee is not included in the list of healthy fats such as eggs, olive oil, avocado, salmon, nuts and coconut oil. Ghee was not included merely because it was thought to be bad for people that were lacto intolerant. So though people are afraid of ghee in their food with the mere thought of an ungainly, blobs of lard, that latch onto your tummy, waist and hips. It is full of all the good important fatty acids, Omega3 and Omega 6 as well as significant amount of vitamins A,D E and K. Therefore, our Indian cuisine always has combined pure ghee on rotis, in our rice, on top of porridges made of bajra and wheat, to be mixed with khichidi, to give a tadka on dals. In all these forms, the ghee is served in its best form for digestion and perhaps the tastiest too.
In fact in many places in India, ghee is given as a first food to a child. Known to line the stomach, it helps in neutralizing the stomach acid before the food moves to the small intestine. Ghee is also given in case of an inflammation of the stomach, though in very small quantities as it is also antibacterial. It is also known to raise levels of HDL, thereby ensuring good cardiovascular health. The West is gradually opening up to the various benefits of ghee that have been written about in our Ayurveda, centuries ago. Therefore, pure desi cow ghee is the elixir of life. Suresh Desi Ghee contains all these benefits. You can order pure desi cow ghee online with us. To know I kg ghee price and other details, please visit our website.